Summative 2 Results 2020-21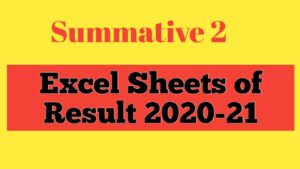 RESULT SHEETS FOR THE YEAR 2020-21
Click here to download the Result Sheet for Std 9 and 10
Result Sheet for II Term Std 9 and 10
Click here to download the result sheet for std 1 and 2
Result Sheet for Std 1 and 2 for  the Year 2020-212
Click here to download the result sheet for std 3 and 4
Result Sheet for Std 3 and 4 for the Year 2020-212
Click here to download the result sheet for std 5 and 2
Result Sheet for Std 5 the for the Year 2020-212
Click here to download the result sheet for std 6, 7and 8
Result Sheet for Std 6, 7, and 8 for the Year 2020-212
RESULT SHEETS WITH SUMMATIVE 2
Click here to download the result sheet for std 1 and 2
Result Sheet for II Term Std 1 and 2
Click here to download the result sheet for std 3 and 4
Result Sheet for II Term Std 3 and 4
Click here to download the result sheet for std 5 and 2
Result Sheet for II Term Std 5
Click here to download the result sheet for std 6 and 2
Result Sheet for II Term Std 6
Click here to download the result sheet for std 7and 8
Result Sheet for II Term Std 7 and 8
Instructions to fill the Excel Sheets
1). Type the names of the Students, Caste, and GR number in the respective column of Sheet Term 2.
2). Term 2 is the sheet for the second term. Write the name of the school and on roll of boys and girls. Select the Standard and Division by drop-down menu
3). Writing M or F in the column M/F is very important. If this column is blank then in the next sheet summary subjectwise and the grade-wise total is not calculated. so take care to fill this column. one more precaution to take in this column to check the M or F. Sometimes instead of M or F it automatically fills M/F and for sr no 1 the subject-wise calculations are not counted.
4). Only you have to enter the marks of formative and total and the grade is auto-filled in the respective columns by the calculations which are set by me.
5). Summary Sheet is the sheet for subjectwise summary for the boys and girls in the grade-wise columns.
6). This sheet is prepared for the 75 students per class. It has two separate sheets one for 40 students and the other for 35 students. So teachers can use the sheets as per the on roll of their classes. If the roll is 40 or less than 40 then you can use only one sheet and if the roll is between 40 to 75 then you can use both sheets.
7). The Excel Sheet is adjusted in A3 size paper. So better to take Printout in A3 Size. If you want to take the printout in A4 or Legal size of the paper then convert it into PDF format and then take out the printout.
GRADING SYSTEM  SEMESTER 2 2020-21 (without summative marks)

FOR SUBJECTS (LANGUAGE/MATHS/EVS/SCIENCE/SOCIAL STUDIES)
SR
STD/GRADE
FORMATIVE MARKS
A 1
A 2
B 1
B 2
C 1
C 2
D 1
D 2
E
PEERCENT
91%-100%
81%-90%
71%-80%
61%-70%
51%-60%
41%-50%
33%-40%
21%-32%
< 20%
1
STD I – II
70
64-70
57-63
50-56
43-49
36-42
29-35
23-28
15-22
< 14
2
STD III – IV
60
55-60
49-54
43-48
37-42
31-36
25-30
20-24
13-19
< 12
3
STD V – VI
50
46-50
41-45
36-40
31-35
26-30
21-25
17-20
11-16
< 10
4
STD VII – VIII
40
37-40
33-36
29-32
25-28
21-24
17-20
13-16
9-12
< 8

FOR SPECIAL  SUBJECTS (ARTS/ CRAFT/PHYSICAL EDUCATION)

SR
STD/GRADE
FORMATIVE MARKS
A 1
A 2
B 1
B 2
C 1
C 2
D 1
D 2
E
PEERCENT
91%-100%
81%-90%
71%-80%
61%-70%
51%-60%
41%-50%
33%-40%
21%-32%
< 20%
1
STD I – II
100
91-100
81-90
71-80
61-70
51-60
41-50
33-40
21-32
< 20
2
STD III – IV
100
91-100
81-90
71-80
61-70
51-60
41-50
33-40
21-32
< 20
3
STD V – VI
100
91-100
81-90
71-80
61-70
51-60
41-50
33-40
21-32
< 20
4
STD VII – VIII
100
91-100
81-90
71-80
61-70
51-60
41-50
33-40
21-32
< 20
RESULT SHEETS FOR SEM 2 FOR THE YEAR 2019-20
Click here to download the result sheet for std 1 and 2
Result Sheet for II Term Std 1 and 2
Click here to download the result sheet for std 3 and 4
Result Sheet for II Term Std 3 and 4
Click here to download the result sheet for std 5 and 2
Result Sheet for II Term Std 5
Click here to download the result sheet for std 6 and 2
Result Sheet for II Term Std 6
Click here to download the result sheet for std 7and 8
Result Sheet for II Term Std 7 and 8